Skip to content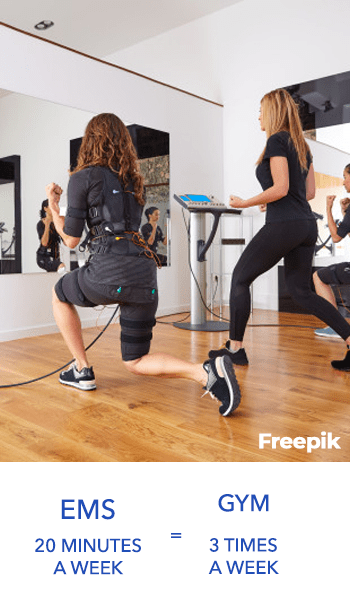 EMS — TRAINING BY ELECTROSTIMULATION
DEFINITION AND STRENGTH
The machine offers the possibility to exercise for only 20 minutes a week, equivalent to a workout in a conventional gym 3 times a week.
YOU WANT TO STAY HEALTHY, BUT…
1. You don't like the gym;
2. You don't have time to exercise
3. Doesn't like to exercise.
ELECTROSTIMULATION TRAINING IS PERFECT FOR YOU!
We use most updated equipment, with pre-workout evaluation included.
1. Consultation for clinical evaluation;
2. Measurement of enzymes;
3. Evaluation of muscle mass by body region.
DIFFERENTIALS
Know the practitioner, to verificate if he or she is eligible for electrostimulation training. Cardiac patients or those with muscular disorders, for example, may not be suitable for the practice.
WORKOUTS ALWAYS ACCOMPANIED
a) To avoid muscle damage and ensure a safe workout.
b) Done by a Physiotherapist and Osteopath, thus guaranteeing the safety of the oriented movements.
c) Physical and lab evaluation, to guarantee the evolution of the workouts without risks.
d) Optional evaluation and nutritional accompaniment can be contracted together.
e) Own clothes, provided for training. We have shower, bath items, and towel so that you can leave the workout ready to resume the day.
f) Individual training – only one trainee at a time in an isolated room, ensuring personalized attention and privacy.
g) Home-based training.
IMPORTANT: We emphasize that muscle damage can be irreversible and, therefore, safety measures are essential.
---
---
---
---
---
---